Been Living Under a Rock? The EMF-Free Revolution and 5 Must-Have Purifiers!
Last updated on November 3rd, 2023 at 04:23 am
Low EMF air purifiers are swiftly rising in popularity. They directly address concerns about indoor air pollution and the potential health risks of prolonged electromagnetic field (EMF) exposure from everyday devices. Not only do these purifiers cleanse the air of contaminants like pollen and mold, but they also employ advanced technologies to significantly reduce or even eliminate EMFs. This ensures both purified air and a safer living space.
Low EMF air purifiers are revolutionizing indoor air quality by addressing two major concerns: cleansing the air of common pollutants and significantly reducing or eliminating harmful electromagnetic field (EMF) exposure. Ensure both purified air and a safer living space with these advanced devices.
It's also worth noting the differences between air purifiers and air conditioners, as both serve unique purposes in enhancing indoor comfort
Do Air Purifiers Emit Radiation and How?
Air Purifiers and Health
Air purifiers are crucial for many homes and offices, designed to clean the air for a healthier environment. Many often ask, "Do air purifiers give off radiation?" Most devices, including air purifiers, do emit some EMF radiation, as electronic devices typically release this type of radiation.
Emission Details
Air purifiers have minimal EMF, which is deemed safe. Their motors and circuitry are the primary sources of this EMF radiation. Additionally, some air purifiers come with Wi-Fi features that can also emit EMF. For those sensitive to such emissions, air purifiers with low EMF are the perfect solution.
Safety and Precautions
While air purifiers emit low EMF radiation levels, these are usually within safe limits. If you're concerned about EMF exposure, consider opting for low-EMF air purifiers and position them at a safe distance from sitting or sleeping areas.
What Are Low EMF Air Purifiers?
The Difference Between Low EMF Air Purifiers and Regular Air Purifiers
Low EMF air purifiers, equipped with true HEPA filters, are designed to minimize electromagnetic radiation, offering a safer solution for those wary of EMF effects. They differ from regular air purifiers by emphasizing reduced EMF exposure and ensuring no ozone production.
Understanding the EMF Radiation Technology Behind Low EMF Air Purifiers
Low EMF air purifiers use innovative technology and design to limit electromagnetic radiation. With advanced shielding materials and the inclusion of a HEPA filter, these purifiers ensure clean air while minimizing EMF exposure. Plus, they offer the added advantage of being ozone-free, enhancing indoor air quality.
For those considering purchasing an air purifier through a health savings account, check if
air purifiers are HSA eligible
to make an informed decision.
How Low EMF Air Purifiers Work
Low-EMF air purifiers combine HEPA filters with advanced low-EMF technologies. Their filtration systems, similar to regular purifiers, effectively remove pollutants. They also utilize shielding materials, grounding techniques, and EMI filters to minimize electromagnetic radiation. However, for optimal safety, it's important to keep a safe distance from the device.
Our Top Picks Best Low EMF Air Purifiers (Updated in 2023)
I've compiled a comprehensive list of the best low EMF air purifiers available in the market. Discover these outstanding products to help you breathe easier and protect your well-being.
Note: This post does contain affiliate links. If you purchase a product after clicking one of our links, we may earn a commission. As an Amazon Associate, we earn from qualifying purchases. There is no extra cost to you and I thank you in advance for your support!
⇆ Scroll the table to learn more
#1 Product Recommendation: The Vremi Premium Large Room Low Radiation Air Purifier stands out. The purifier has a True HEPA H13 filter. It catches 99.97% of particles in the air. Its 3-stage system makes the air inside healthier. The purifier has a low radiation design. This means less EMF exposure. It's a top pick for those who want good health.
The Vremi Premium True HEPA Air Purifier is more than a device. It offers a healthier lifestyle and meets both technical and user needs.
Breakdown: Features, Pros, and Cons
| Features | Pros | Cons |
| --- | --- | --- |
| True HEPA H13 filter | Ensures 99.97% of airborne particles are captured, making air cleaner. | Needs a half-yearly replacement (though this is quite standard). |
| 3-Stage Filtration | Targets both larger particles and odors. | |
| Smart Air Quality Monitor | Auto-adjusts fan speed & provides real-time feedback. | Might be too techy for some users. |
| Modern design with 360-degree air intake | Efficient purification and sleek look. | |
| Quiet operation with max noise of 52 dB | Doesn't disturb peace, even at night. | |
| Filter with 4320-hour runtime | Reduced maintenance frequency. | |
| Built-in timer & customizable night light | Added convenience and ambiance. | Night light may not be for everyone. |
Purification at its Finest
The Vremi's top pick feature is its True HEPA H13 filter with an impressive 99.97% efficiency, ensuring almost entirely clean air.
Vremi's 3-stage filtration, particularly the activated carbon filter, eliminated the odors in my living room from fried food to pets.
Size and Design – A Modern Touch to Purification
The Vremi's elegant design, at 15.5 inches high and 8.7 inches in diameter, complements any decor. Its 360-degree air intake ensures maximum purification.
Usability – Designed for the Modern User
The Vremi's Smart Air Quality Monitor checks the air quality. It adjusts the fan speed and changes the display color based on that. It's also whisper-quiet at 52 dB and comes with a cozy night light, making it the perfect bedroom air purifier.
Maintenance – A Breeze
Before using the air purifier, remove the filter's plastic sleeve. After that, enjoy its 4320-hour runtime – roughly six months of use. The filter replacement indicator provides a timely reminder.
This Levoit HEPA Low EMF Air Purifier is more than just a device. For me, it became an integral part of ensuring a healthier living space. While no product is perfect, the Low EMF Air Purifier came pretty close to checking all the boxes for my air purification needs.
Breakdown: Features, Pros, and Cons
| Features | Pros | Cons |
| --- | --- | --- |
| Powerful CADR of 130 CFM / 221 m3/h | Rapid air cleaning, perfect for larger rooms | Might be overkill for very small spaces |
| 3-Stage Filtration | Ensures comprehensive air purification from large particles to tiny ones | Filters need periodic replacement |
| Low Noise Level (23 decibels) | Sleep-friendly, doesn't disturb your peace | — |
| User-friendly Timer & Check Filter Indicator | Adds convenience and ensures optimal functioning | — |
| Energy Efficiency ($1.66/week for 24/7 operation) | Economical and environment-friendly, especially during high pollution | — |
| Compact Design with Top-Facing Air Vents | Flexibility in placement and saves space | Less aesthetic appeal than some competitors |
| Filter Replacements with specific codes | Ensures you get the right filter replacements | Need to remember codes for replacement |
The First Impression
The top-facing vents on the compact design of this air purifier allowed flexible placement, perfect for tight spots like near my living room wall.
The Power Within
The air purifier boasts a CADR of 130 CFM / 221 m3/h, rapidly cleaning the air in my 300 ft² living room in just 18 minutes.
Diving Deeper
The Levoit HEPA Low EMF Air Purifier's 3-stage filtration tackles pet fur, eliminates odors, and captures allergens like pollen and dust.
Sleeping Like a Baby
Its quiet operation, as low as 23 decibels, ensures undisturbed sleep, and the option to turn off display lights adds to the comfort.
For the Forgetful Ones
The air purifier features a handy timer for 2, 4, or 8 hours and a Check Filter Indicator, perfect for reminders on filter replacement.
Economy Meets Efficiency
Running this cost-effective device 24/7 during smoky seasons costs just about $1.66 a week.
Filter Replacements
Remembering filter replacement codes can be tricky, but once noted, getting new filters is straightforward.
The KOIOS H13 HEPA Air Purifier is a top pick for homes. It's perfect for improving indoor air quality and fighting allergies with its user-friendly features.
Breakdown: Features, Pros, and Cons
| Features | Pros | Cons |
| --- | --- | --- |
| Compact and Lightweight Design | Highly portable, perfect for small spaces | May not be suitable for larger rooms |
| H13 TRUE HEPA 3-stage Filter System | Captures 99.97% of airborne contaminants, removes odors | Filters need replacement every 3-6 months |
| PM2.5 Air Quality Display with Automatic Control | Adjusts fan speed automatically, real-time readings | Takes 30s to start after powering on |
| Silent Operation with Aromatherapy Design | Near-silent at low speed, aromatic experience | Essential oil not included |
| Safety Certifications | Certified as 100% ozone-free, multiple certifications | None |
Portability and Design
The compact HQKJ-50 weighs just 2.6 pounds. It's perfect for rooms up to 215 ft², from small to large. You can easily move it from the living room to the bedroom. It's great for dorms, baby rooms, and offices. If you have pets or children, this purifier is essential for clean air.
Performance and Filtration
The KOIOS has a 3-stage filtration system with an H13 TRUE HEPA filter. It captures allergens like dust and removes odors efficiently. As a pet owner, I noticed a remarkable difference in indoor air quality.
Smart Air Sensor Technology
The air purifier uses a smart PM2.5 air quality index. It adjusts fan speeds based on pollutants, so you get clean air without manual changes.
Noise Level and Aromatherapy
The purifier operates at a quiet 16dB. Its 1-minute display auto-shutoff feature ensures you sleep without disturbances. The purifier has an aromatherapy slot. It's perfect for essential oils like lavender and makes the bedroom feel better.
Safety and Certification
This device is 100% ozone-free and certified by CARB, ETL, FCC, and CE. It's very safe and reliable.
The Clorox Smart Medium Room Air Purifier has become an integral part of my living space. The air purifier is advanced in technology but easy to use, and it cleans the air efficiently.
Breakdown: Features, Pros, and Cons
| Features | Pros | Cons |
| --- | --- | --- |
| Alexa Voice Integration | Hassle-free control, and remote access via the app. | Requires an Alexa device or app for the best experience. |
| True HEPA Filtration | High efficiency in capturing microparticles, allergens, and pathogens. | Regular filter replacement is needed for optimal performance. |
| 3 Stage 360° Filter | Comprehensive cleaning reduces odors. | More layers might mean more frequent maintenance. |
| Air-Quality Feedback | Real-time insights, automatic adjustment in auto mode. | Might be too technical for some users. |
| Size and Efficiency | Suitable for medium to large rooms, and multiple cleaning cycles. | Might not be ideal for very large spaces or open areas. |
Alexa Integration: Modern Living at Its Best
After unboxing, I quickly connected the device to my Alexa smart speaker. Using voice commands or the Alexa app, I can remotely control and monitor the air purifier, which is very convenient.
The Beauty of True HEPA Filtration
The Clorox Smart Air Purifier with its True HEPA filter is a top pick, capturing 99.97% of allergens and 99.9% of viruses, especially important during flu season.
The 3 Stage 360° Filter: Comprehensive Cleanliness
The air purifier's 3 Stage 360° Filter removes dust, pet hair, microparticles, and odors efficiently. It's perfect for rooms frequently used by pets.
Accurate Air-Quality Feedback: Knowledge is Power
The air purifier's display shows PM2.5 readings and color-coded lights for quick air quality checks. The purifier adjusts its speed based on feedback, evident when I once burned toast!
Size and Efficiency: Big Things in Smart Packages
This compact air purifier cleans the air 5 times hourly in rooms like my 225 sq. ft. study and is good for spaces up to 1,000 sq. ft.
Replacement and Maintenance: A Piece of Cake
Filter replacement is hassle-free with this model. Using the provided code, I easily found genuine Clorox filters, ensuring its top-notch performance continues.
The hOmeLabs True HEPA Low EMF Air Purifier significantly improved my indoor air quality with its rigorous filtering system and stylish design.
Breakdown: Features, Pros, and Cons
| Features | Pros | Cons |
| --- | --- | --- |
| True HEPA H13 Filter | Authentic and highly effective against small particles | Filter needs replacement periodically |
| 3-Stage Filtration System | Comprehensive protection against all airborne particles and odors | |
| Compact Design | Fits in any space and is easily portable | Might need multiple units for larger spaces |
| Quiet Operation & Night Light | Ideal for bedrooms, with an adjustable brightness night light | |
| Child Lock Function | Safety feature for homes with kids | |
Top-notch Quality: True HEPA H13 Filter
The True HEPA H13 filter is the main part of this air purifier. It catches pollutants like dust and smoke. In both the kitchen and playroom, the air feels clean.
Outstanding Feature: 3-Stage Filtration System
The 3-Stage Filtration System has three important parts: a pre-filter for big particles, the True HEPA filter for tiny ones, and a carbon filter for smells. I saw a clear change after using it for three months. Don't forget to take off the sleeve when you start!
Compact Yet Powerful
This small air purifier fits in any room and looks good. You can easily move it from one room to another.
Perfect for the Bedroom
In the bedroom, it runs quietly at low speed. It also has a night light that gives a calm feel. Homes with kids need their children locked.
Factors to Consider When Choosing a Low EMF Air Purifier
Room Size Matters
When choosing a low EMF air purifier, the size of the room is critical. Small air purifiers might not be perfect for large rooms, and big ones can be too much for tiny spaces. For small rooms, opt for compact air purifiers; mid-range ones for medium-sized rooms, and high-capacity air purifiers for large rooms.
Filtration Technology Makes a Difference
Filtration technology is essential in an air purifier's ability to eliminate pollutants. Look for models with advanced systems like HEPA filters or activated carbon filters. For trapping particles, pick HEPA filters. Use activated carbon filters for odors. For capturing electric charges, select electrostatic precipitators.
Noise Level Considerations
The noise level of an air purifier is important. You'll want one that operates quietly, especially for spaces like bedrooms. In bedrooms, choose whisper-quiet air purifiers. For living areas, go for low noise. Ensure it has adjustable fan speeds for different noise levels.
Additional Features for Your Specific Needs
Low EMF air purifiers have extra features that can improve your experience. Make sure these features match your needs. Energy efficiency is vital for continuously running air purifiers. Look for ENERGY STAR certified options for optimal efficiency. Maintenance is crucial for an air purifier's performance. Choose a model with easily replaceable filters and consider filter replacement costs.
By considering these features and using this buying guide, you can choose the best low-EMF air purifier for your needs.
Benefits of Using Low EMF Air Purifiers
Breathe Easy with Cleaner and Fresher Indoor Air
Low EMF air purifiers enhance indoor air quality by reducing allergens and pollutants. This gives your home a cleaner environment. Low EMF air purifiers eliminate airborne contaminants like pollen and pet dander. This improves air quality and reduces allergy risks.
Improve Your Respiratory Health
For people with asthma or respiratory issues, low EMF air purifiers are essential. They emit minimal EMFs and improve indoor air quality, which enhances respiratory health.
Creating a Safer and Healthier Environment from Pollution with Low EMF Air Purifiers
Low EMF air purifiers reduce electromagnetic radiation in your home. They ensure minimized emissions and cleaner air. Low EMF air purifiers make your environment safer. They minimize radiation, clean the air, offer allergy relief, and help you sleep peacefully.
Embracing Low EMF Air Purifiers for a Healthier Home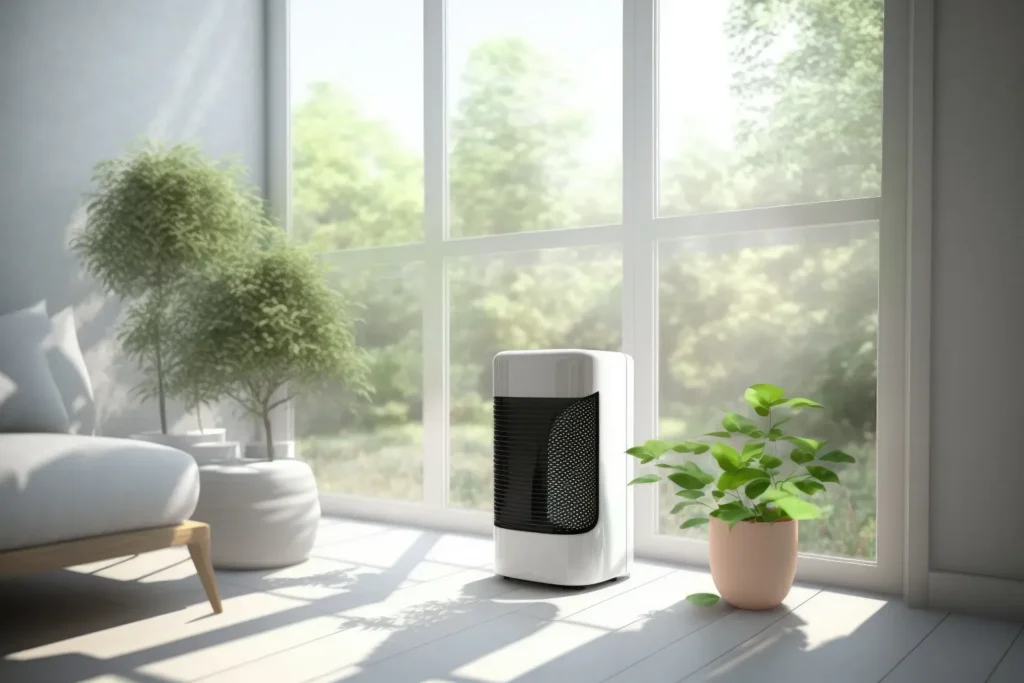 Take Control of Your Living Environment
Using innovative low EMF air purifiers is essential for a healthier living environment. They enhance indoor air quality and minimize risks from electromagnetic radiation.
Prioritize Your Well-being
Prioritizing your well-being is critical. Invest in a good quality air purifier to reduce harmful emissions and improve indoor air, tackling pollutants like dust and VOCs.
Enjoy Peace of Mind
Low EMF air purifiers give you invaluable peace of mind. Create a safe space, free from harmful EMF exposure, where you and your family can breathe easily.
Enhance Indoor Air Quality
Low EMF air purifiers use advanced HEPA technology. They have sensors to capture and eliminate pollutants. Some models eliminate odors and VOCs, ensuring a clean environment.
Choose the Right Low EMF Air Purifier
Choose low EMF air purifiers with HEPA filters and quality sensors. Brands like Vremi and Levoit are top picks for their performance and minimal emissions.
Frequently Asked Questions (FAQs)
What is EMF radiation?
EMF radiation is a type of radiation emitted by electronic devices, including air purifiers. It can potentially cause health problems with prolonged exposure.
Can EMF radiation cause health problems?
Prolonged exposure to EMF radiation has been associated with health problems such as cancer and reproductive issues. While the amount of radiation emitted by air purifiers is typically low, it can add up over time.
How do low EMF air purifiers work?
Low EMF air purifiers work by reducing the amount of radiation emitted by the air purifier. This is achieved through the use of specialized filters and other technologies.
Are low EMF air purifiers effective in removing allergens?
Yes, low EMF air purifiers are designed to effectively capture allergens such as dust mites, pollen, pet dander, and mold spores from the air, providing relief for allergy sufferers.
Can low EMF air purifiers help with asthma symptoms?
Absolutely! Low EMF air purifiers can significantly reduce asthma triggers by removing airborne particles that can cause respiratory distress. They create a cleaner environment that promotes better breathing for individuals with asthma.
Can low EMF air purifiers remove all types of air pollutants?
Low EMF air purifiers are effective at removing many types of air pollutants, including allergens, dust, and pet dander. However, they may not be effective at removing certain types of pollutants, such as volatile organic compounds (VOCs).
Do low EMF air purifiers consume a lot of energy?
No, low EMF air purifiers are designed to be energy-efficient while still delivering outstanding performance. They utilize advanced technologies to minimize power consumption without compromising on purification capabilities.
Will using a low EMF air purifier improve my sleep quality?
Yes, it can. By reducing electromagnetic radiation and eliminating airborne pollutants that may disrupt sleep patterns, low EMF air purifiers contribute to creating a more conducive environment for restful sleep.
Can I use a low EMF air purifier in my office or workplace?
Certainly! Low EMF air purifiers are suitable for various settings beyond just homes. Whether it's an office or any other indoor space where clean and healthy air is desired, these devices can be beneficial additions.
Are low EMF air purifiers more expensive than regular air purifiers?
Low EMF air purifiers can be more expensive than regular air purifiers, but they are often worth the investment for the health benefits they provide.
Final Verdict
Selecting a low EMF air purifier is critical for a healthy environment. It's a top pick for health-conscious individuals. By choosing the best low EMF air purifiers, you can improve indoor air quality, reduce EMF exposure, and support good health. When selecting an air purifier, consider factors like filter type, room coverage, noise, and efficiency. This helps you make the best choice within your budget.
The air we breathe profoundly affects our health. Investing in a recommended low EMF air purifier is essential. It ensures better indoor air quality, reduces radiation exposure and promotes improved health and sleep.